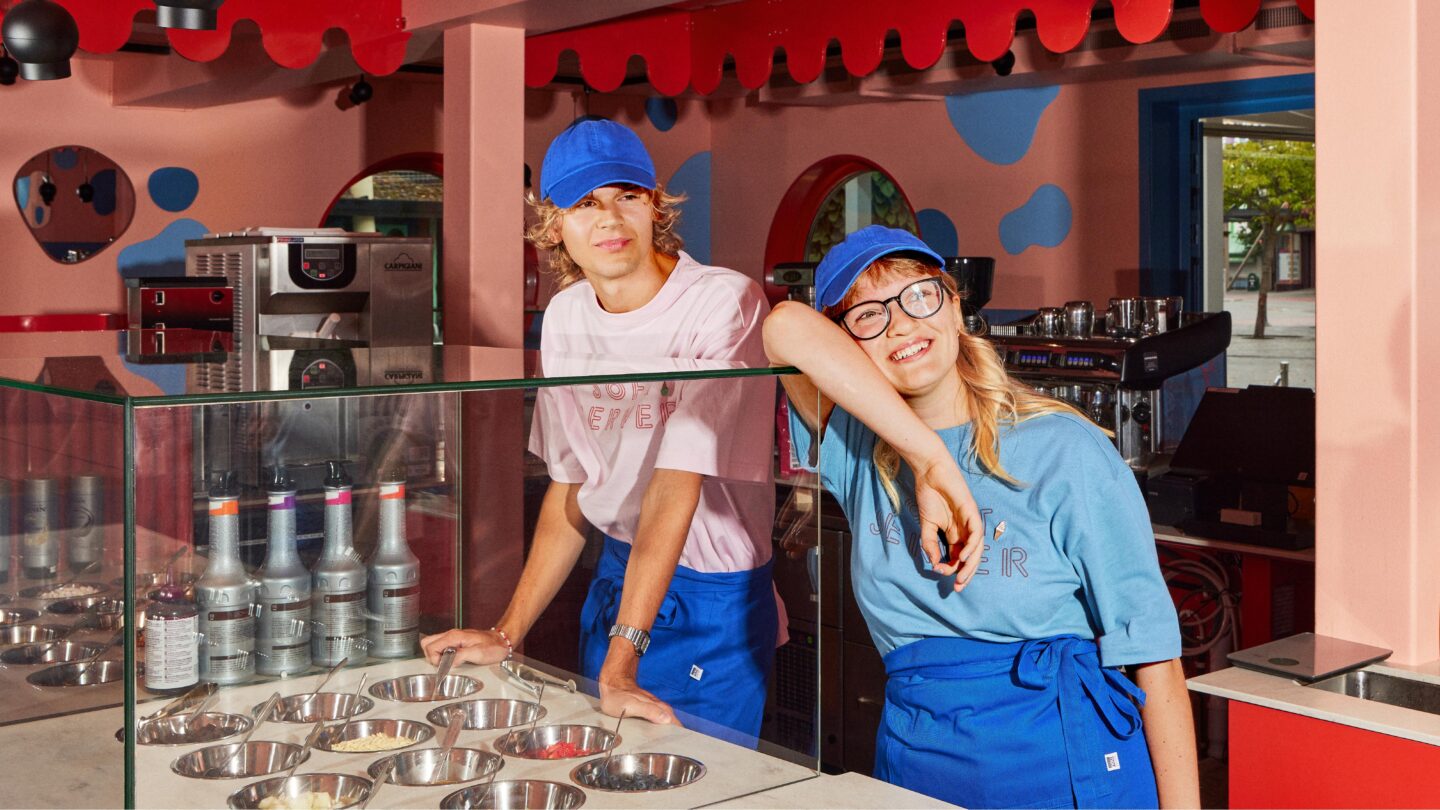 How do you create an exciting ice cream experience for the whole family amidst the thrilling setting of an amusement park visit? At GB Glace's retail concept at Gröna Lund, ice cream takes centre stage. A beautiful centrepiece bar counter, complemented by vibrant neon signs, guides visitors through a dreamy and never-ending array of toppings. The interiors blend cool and warm hues of the brand's colours with soft wooden cut-outs and organic round shape details. With this approach we transform a visual identity into spatiality – and turn a soft serve workshop into a desired joyride.
Expanding upon the visual expression for GB ice cream kiosks, we ventured to craft a unique retail concept for their soft serve bar at the iconic amusement park in Stockholm, Gröna Lund. Given that this was to be the first dramatized concept beyond the traditional ice cream kiosk, we heightened the excitement surrounding ice cream and encouraged flavour experimentation. We seamlessly brought GB Glace's visual world into the amusement park, translating their identity into a tangible spatial experience.
To facilitate a smooth workshop flow and aid navigation, we strategically placed a central bar counter as the focal point, where ice cream and toppings take centre stage. Staff members, adorned in "soft server" uniforms complete with pins and caps, serve with flair and a friendly smile, enhancing the overall experience. Coupled with neon signs, organic cut-outs, and an inviting retail layout, we inject energy into the encounter, transforming the creation of soft serve into a true joyride and a sought-after stop for the entire family.