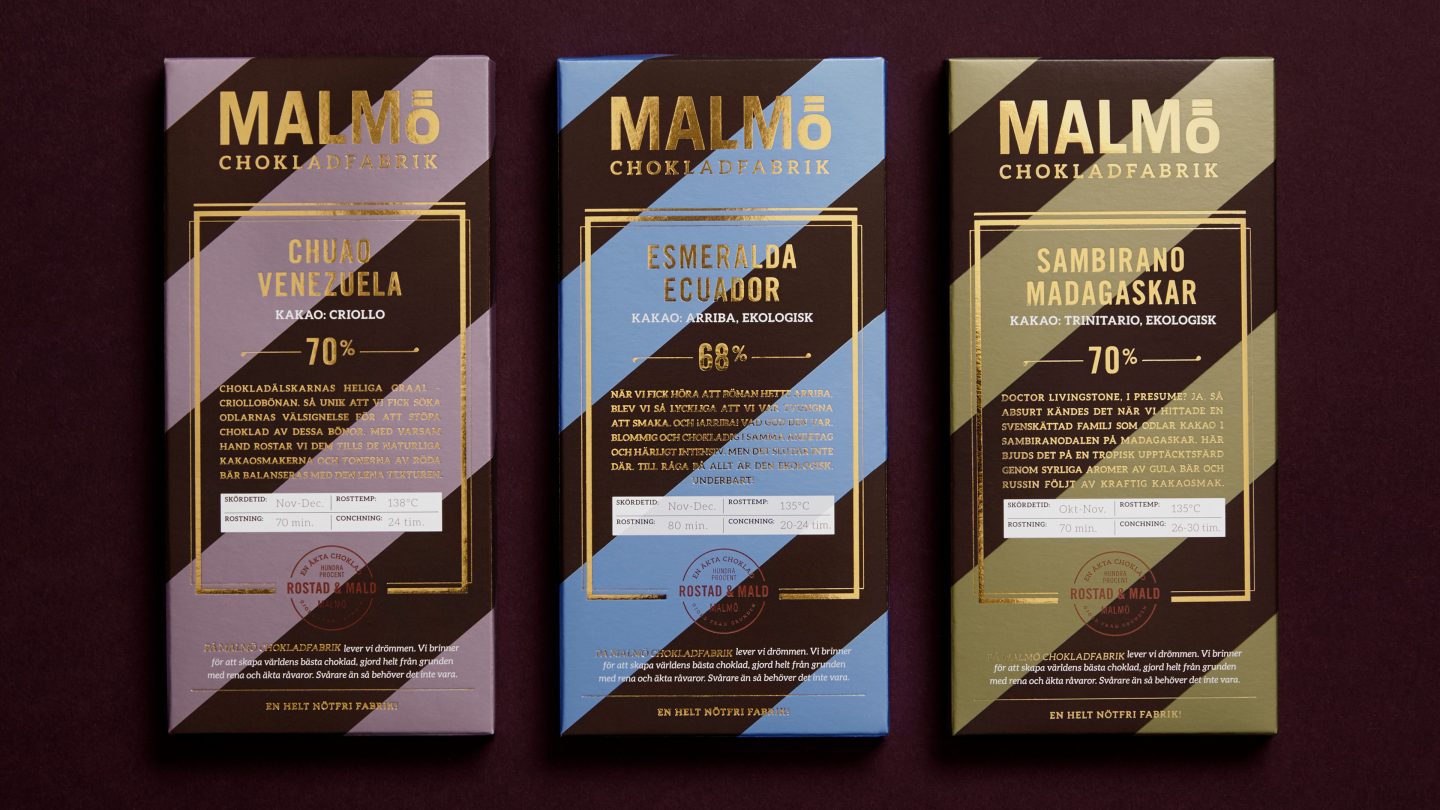 Malmö Chokladfabrik is a chocolate factory rooted in old Swedish chocolate tradition and the renowned classic brand of Mazetti. Still partly located in Mazetti's historical factory in the centre of Malmö, the company is owned and managed by two passionate brothers.
Mission
The mission was to redefine the Malmö Chokladfabrik's product portfolio and to find a more relevant positioning in the premium chocolate category. The ambition was to create a position, as well as a design language, that reflected the chocolate quality and its pureness, the makers' passion for chocolate, craft and innovativeness. At the same time, it was important to pay a tribute to the brand's history and to the Swedish chocolate tradition.
Insight
Within the world of premium chocolate, the interest for craftsmanship, ingredients and origins continues to grow. Consumers have an infinite desire for stories and to learn about the past. At the same time, they want to discover new and innovative flavour expressions.
The idea
The story of the modern factory, with its rich past, inspired our creative team. This is the story of two brothers who've always dreamed of owning a chocolate factory and are now driving their business from the 120-years old original factory, creating pure, nut-free, premium chocolate for speciality stores in the Nordics.
The "Bean to Bar"-range is the brand's jewel. The beans are roasted and ground by hand, a unique production method in the Nordics. The main element of the design is a pattern inspired by a striped old brick chimney from the factory. The dots over the Swedish "Ö" in the logotype, as well as the chocolate mould, stems from the unique brick-setting that you can see on one of the factory walls.
The Flavoured Range, the rich, witty illustrations capture the unique flavour, the creation process, and stories behind each product. Postcard stamps visualize the origins of the beans on the Pure Range, visualizing the long history of shipping cocoa beans across the globe.
Concept Development
Brand re-positioning
Structural Design
Packaging Design
Naming