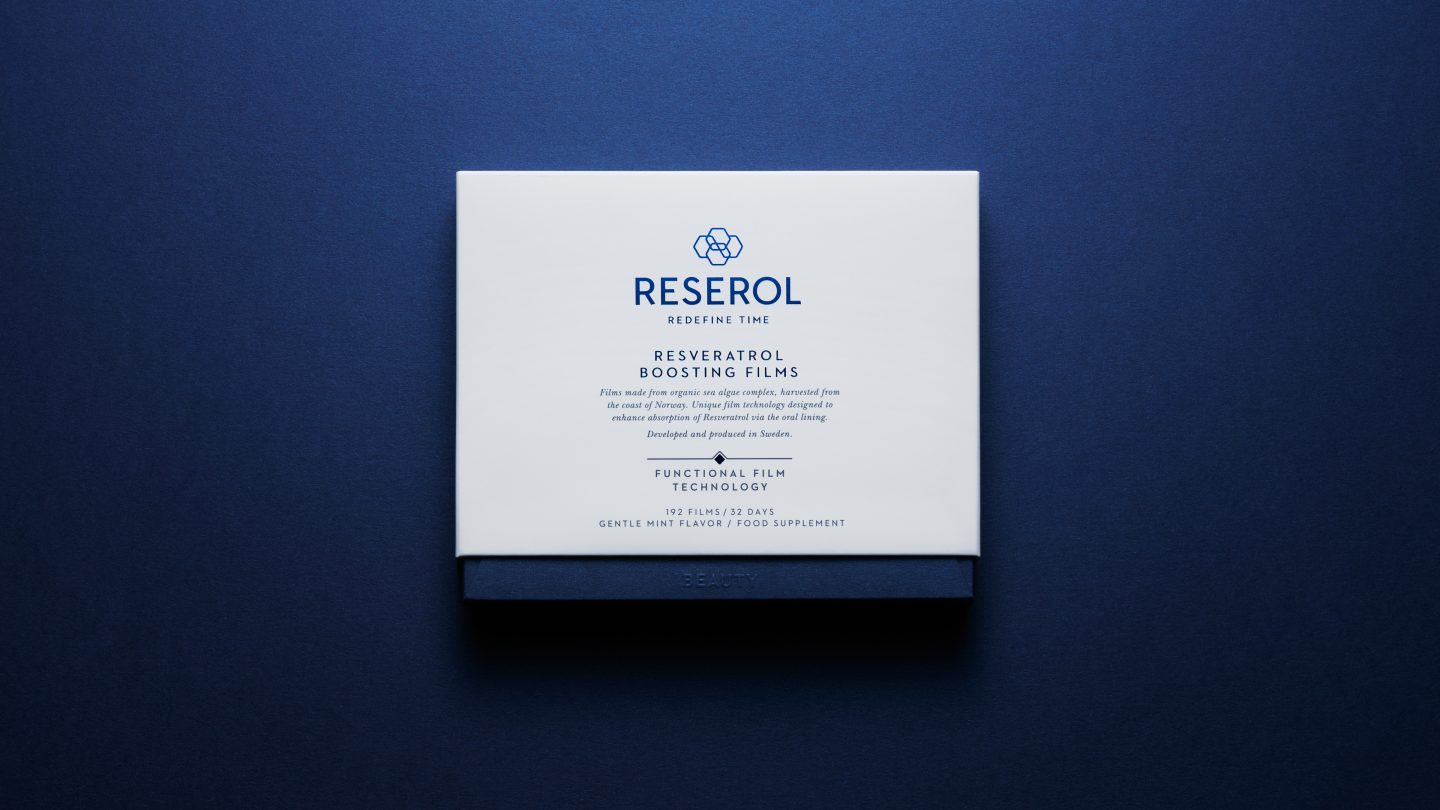 Nutrinovate
Nutrinovate is the brainchild of a group of researchers, entrepreneurs and inventors with a common interest; to break new ground in health by combining the latest in research and innovation.
Reserol
Reserol is an innovation from Nutrinovate. It is a natural thin film containing 20 mg resveratrol, a substance with powerful anti-aging and anti-inflammatory properties. The film is made with patented technology and is manufactured in Sweden. It is designed for the sole purpose of efficiently delivering resveratrol into the body through the oral mucosa, thereby bypassing the digestion system, where most of the substance, if taking orally, is destroyed.
Mission
Nutrinovate had a new, high-end premium health/beauty innovation ready to launch, made from Norwegian algae. Pond Design was commissioned to bring a completely new brand to life including a name, packaging design, product design, concept and structural design. It had to be an identity and a design that worked digitally, but enabled shipping from the fairly small production in Täby, Stockholm. The challenge was to create a high-end product with the budget of a start-up.
Insight
People continuously look for new ways to feel and look better. This desire transcends trends and categories to influence both consumer behaviour and consumer choices. We seek products that deliver the promise of becoming "a better version of oneself" because we want to live a longer and healthier life. A better "I" often start from the inside and shows on the outside.
The idea
We created a proposition that was unconventional in the health-and-beauty department and targeted both women and men. Reserol's core is "Scandinavian nature meets science" and "beauty meets health". The DNA-like symbol we created is inspired from both the molecules of the algae and the symbol for eternity, to connect to the promise of redefining time. As the innovation and technology behind the product are unique, the design had to be just as avant-garde, gender- neutral, natural, scientific and innovative. The name – Reserol – is simply short version of reservatrol, the key ingredient of the film. The blue colour was inspired from the sea, where the algae grow. The typography is simple and elegant, and consistent with the Scandinavian Design tradition.
Concept Development
Construction Packaging
Structural Design
Packaging Design
Naming
Storytelling
Product Brand Assets