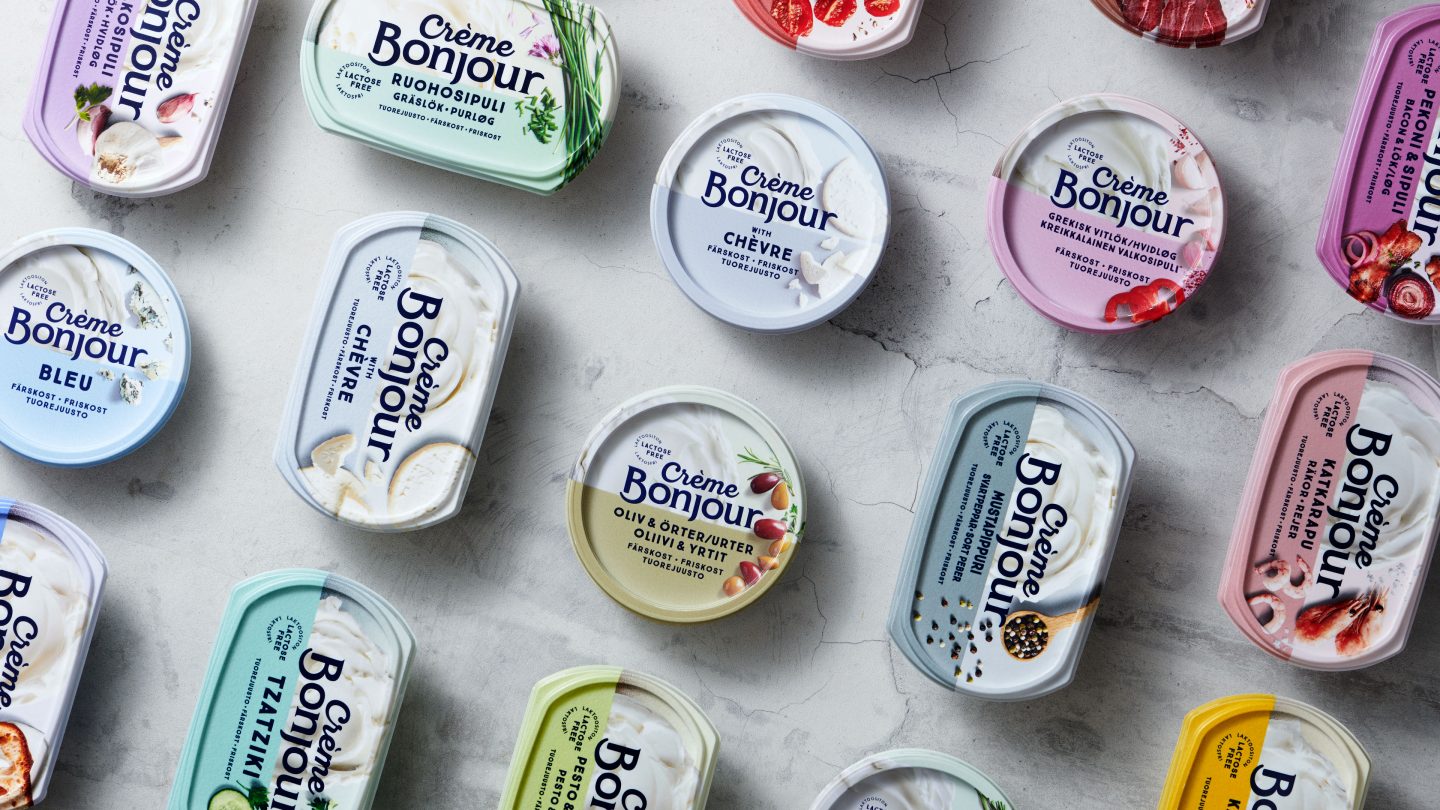 Since the 1980s Crème Bonjour have developed and produced some of the Nordic's most beloved cream cheeses and are market leaders in the flavoured category. Their range contains of a vast assortment, all produced in Sweden.
Mission
The mission was to update the new Crème Bonjour design expression and identify how to regain the cream cheese connection and get a clear position in the category. Additionally, there was a need to communicate the high quality as well as ensure shelf stand out and at the same time keep brand recognition.
Insight
Consumers today are highly educated about food and what they eat, the knowledge and demand for high quality food is therefore increasing. At the same time, the need for tasty, easy-to-use products that helps us save time in our busy every-day lives is gaining influence. To combine these demands can sometimes be a challenge. It is of great importance to highlight the naturalness of the flavors and the ingredients in order to emphasize its high quality. Especially in a category where decisions are mainly based on price.
Idea
We started by defining a new visual language with a more natural design aesthetic and added inspiration from foodiness, leading to a more premium feel and a clear Crème Bonjour personality. The idea was to dramatize the brand's craftsmanship with lively creamy texture as the hero with added fresh herbs and flavours. But also to show diversity and the passion behind the products through up-to-date inspiring food- and baking photography.
The logotype is spaciously designed for a more fresh, sophisticated look and a contemporary feel. Furthermore, the new typographic family has a letter-pressed authentic look. We used an organic colour-setting for freshness and added authenticity trough a tactile hand-feel in the texture of the packaging. All together, we created a brand with a stronger and clearer personality, that communicates naturalness, passion and a connection to its heritage.
Concept Development
Packaging Design
Storytelling
Product Brand Assets
Identity
Design Strategy