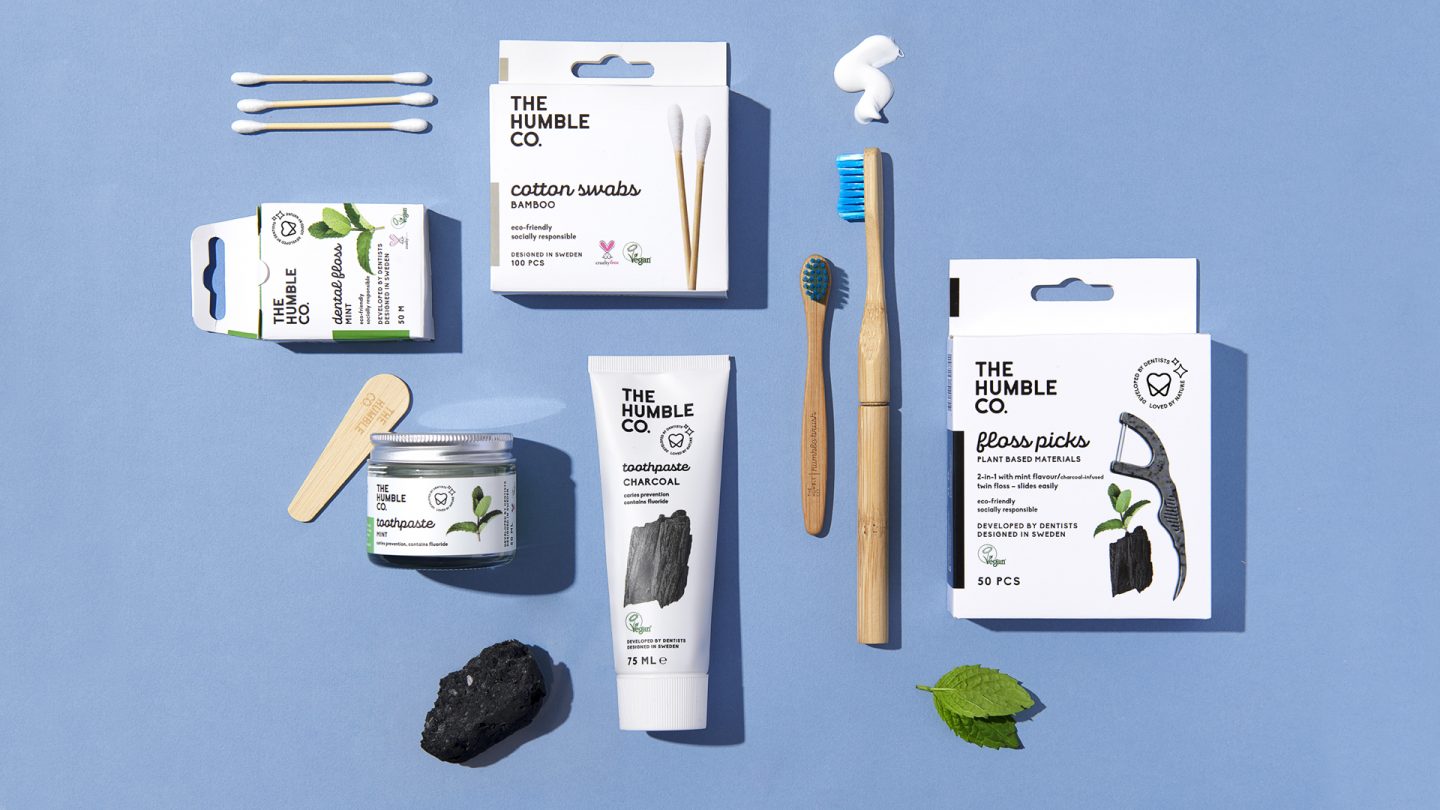 Since 2013, The Humble Co. has been leading a small revolution in personal care, developing, manufacturing and marketing eco-friendly and socially responsible products. Thanks to the success with the iconic humble brush the humble smile foundation has been able to play a significant role providing oral healthcare in underprivileged areas.
From the humble start with the humble brush, the company has grown significantly, with new products and presence in more than 40 000 stores worldwide. There was a need to strengthen and unify the brand experience and product portfolio across all touchpoints, with a clear, impactful and consistent visual brand identity. The goal was to reinforce The Humble Co.'s professional image and enhance consumer understanding of the brand's steadily growing offering across different channels; website, social media, packaging, signage, exhibition stands, POS material, and more.
Pond Design created a new visual expression that combines The Humble Co.'s sustainable philosophy, with a commercially viable approach, in a world dominated by oral care giants such as Colgate and Jordan. Based on the insights that consumers chose oral care products from brands they trust, and at the same time love brands that have both a heart and a soul, the design was created to aims towards that exact space. To achieve the right balance, the new design is both bold and fun, warm and inviting, but also instills a feeling of trust. The design system clearly advocates the company's scientific foundation, where products are developed by dentists and other professionals. The bold logo and the brand claim, Developed by Dentists, Loved by Nature, play significant and central roles on all packaging. The design makes it cool to be conscious and brings lifestyle elements to a traditional category. It uses statements in a bold way with an inviting and honest tone-of-voice and shares its knowledge, – all done with an Instagram-friendly imagery.
Visual Identity
Brand Platform
Packaging Design
Storytelling
Copy
Brand Assets
Design Strategy
Design System