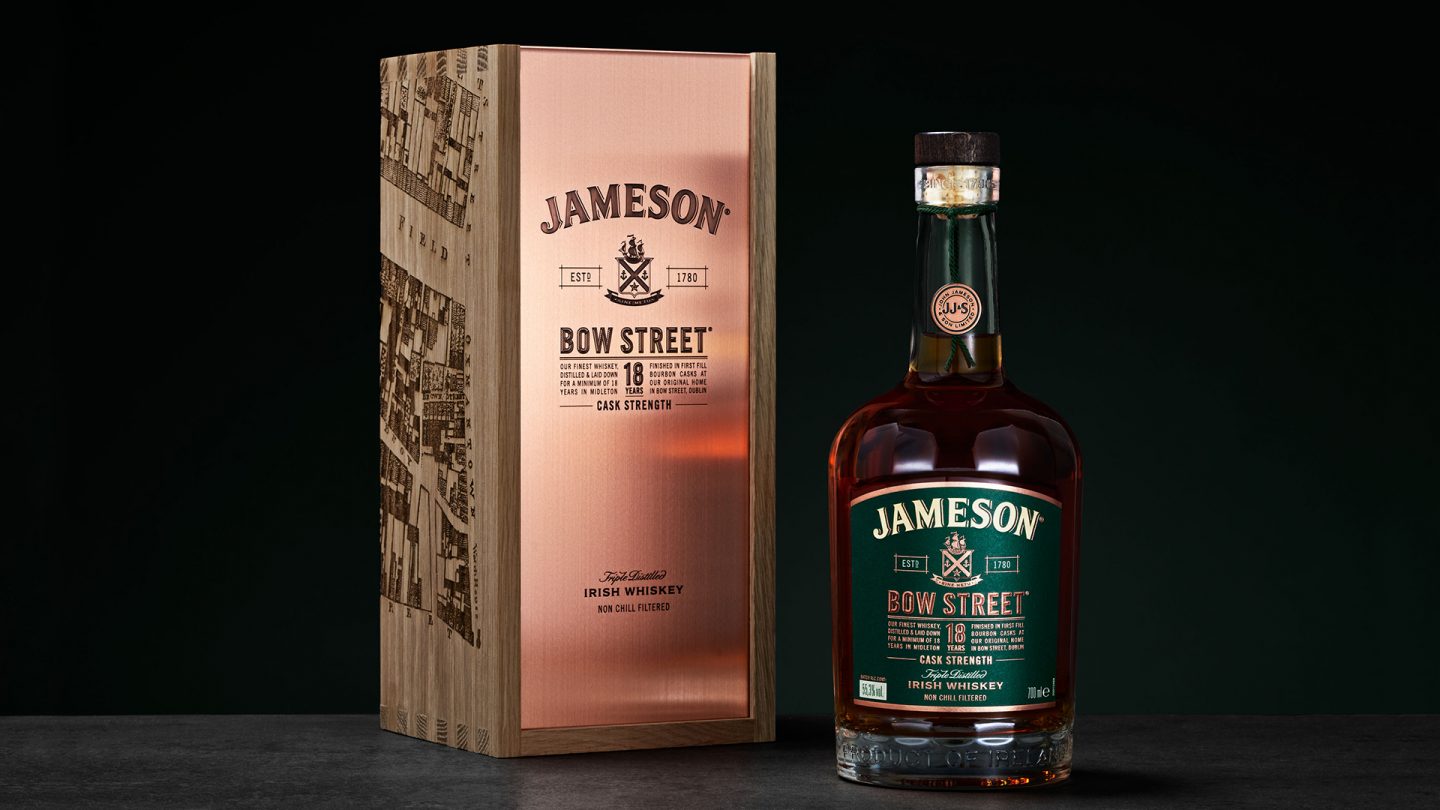 Jameson is the world's leading Irish whiskey producer and one of the world's major spirits brands, with annual sales topping 70 million bottles in 114 markets worldwide.
Mission
The mission was to design a new, prestigious offering, with a high aspirational appeal, that would attract both convinced Jameson advocates and other whiskey enthusiasts. One of the main challenges was to find an ownable way to express Jameson's unpretentious tonality in the prestige whiskey category, while remaining true to the brand's core expression.
Insight
Jameson is an entry-level whiskey for many. Although well liked, many consumers leave the brand behind when they trade up. There is also a perception that prestige hasn't been a priority for Irish Whiskey. In addition, blended whiskeys (which all Jameson whiskeys are) are perceived as less prestigious compared to single malt. Age is another prestige indicator which most Jameson whiskeys don't have.
The idea
Jameson Whiskey Bow Street 18 Years Old has a unique story that spans over almost two decades and 270 kilometres. Born in Midleton, the whiskey is aged for 18 years in hand-selected casks and then travels to Dublin to be finished in Bow Street in Smithfield in first-fill bourbon barrels.
To tell that story, we created a design that positions Jameson Whiskey Bow Street 18 Years Old as the pinnacle of the brand, through the choice of materials, colour palette and the use of hand-crafted, tangible details. From the smallest detail to the solid outer wooden case, the design tells the story of the original home of Jameson, in Bow Street, Dublin where the whiskey is finished. A woodburned original Dublin map is depicted on the wooden case, as well as an etched copper door. The whiskey is presented in an exclusively designed 18-facetted glass bottle. Each facet represents a year of maturation and the facets are, in turn, inspired by the staves that form the casks and barrels in which the whiskey is matured. On the bottom of the wooden case the buyer will discover a unique copper coin, which provides access to an online experience bringing to life the History of Bow Street, and the Whiskey itself.
Concept Development
Packaging Design
Structural Design
Naming
Brand identity
Storytelling
Product Brand Assets