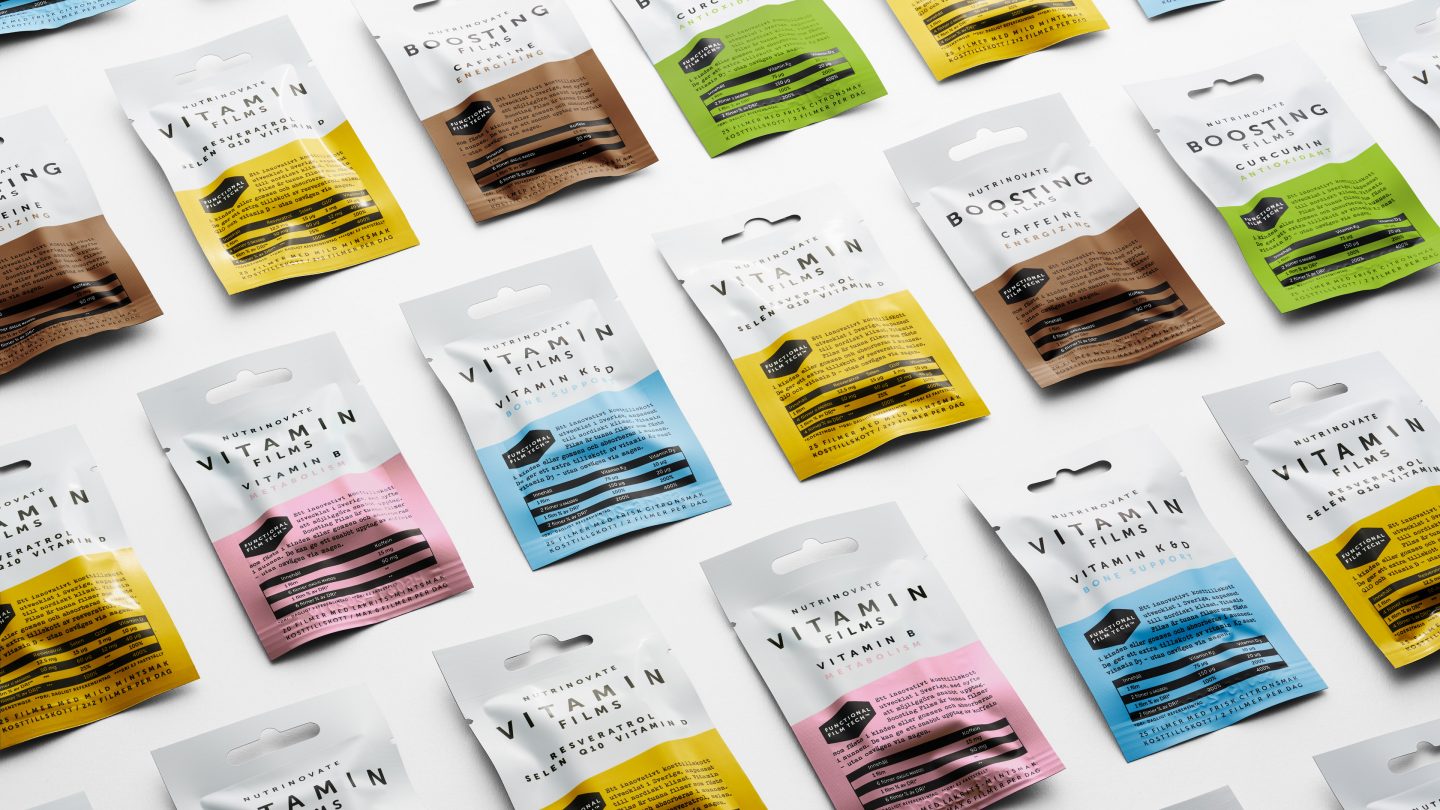 Nutrinovate is the brainchild of a group of researchers, entrepreneurs and inventors. With an ambition to break new ground in wellness, health and beauty, they combine the latest in research with innovative product development. Vitamin Films are thin films, made with the purest Norwegian algae, that deliver dietary supplements to the body in an effective way. When placed on the inside of the cheek or on the palate, supplements are absorbed through the mucus membrane without passing through the digestive tract and are absorbed directly into the blood stream.
Mission
As Nutrinovate was introducing a completely new innovation to the crowded over-the-counter vitamins territory, there was a need to be both clear and impactful. We were commissioned to create a brand story, brand name, logotype, design tool-box and packaging design.
Insight
People continuously look for new and innovative ways to feel and look better. This desire transcends trends and categories to influence both consumer behaviour and consumer choices.
The idea
The idea behind the design was to create a bridge between a state-of-the-art scientific invention and a contemporary, trustworthy and approachable consumer product. To do so, we borrowed cues from visual worlds such as sports, chemistry, fashion and classic pharmacy. For a pharmaceutical feel, we used a severe and modern straight-lined main typography. A more personalized impression was created by a secondary typography, with a classic, old-fashioned typewriter prescription look. To even further enhance trustworthiness, transparency and innovativeness, the ingredient list was printed on front of pack. The icons on back of pack were inspired by the periodical table. To create a sense of movement and energy, the diagonal graphic elements on the pack play with the world of sports and fashion. Another wink to sports is the usage of white, black and a strong signal colour, which we used to differentiate between different kinds of supplements.
Concept Development
Construction Packaging
Structural Design Packaging
Design
Naming
Storytelling
Product Brand Assets