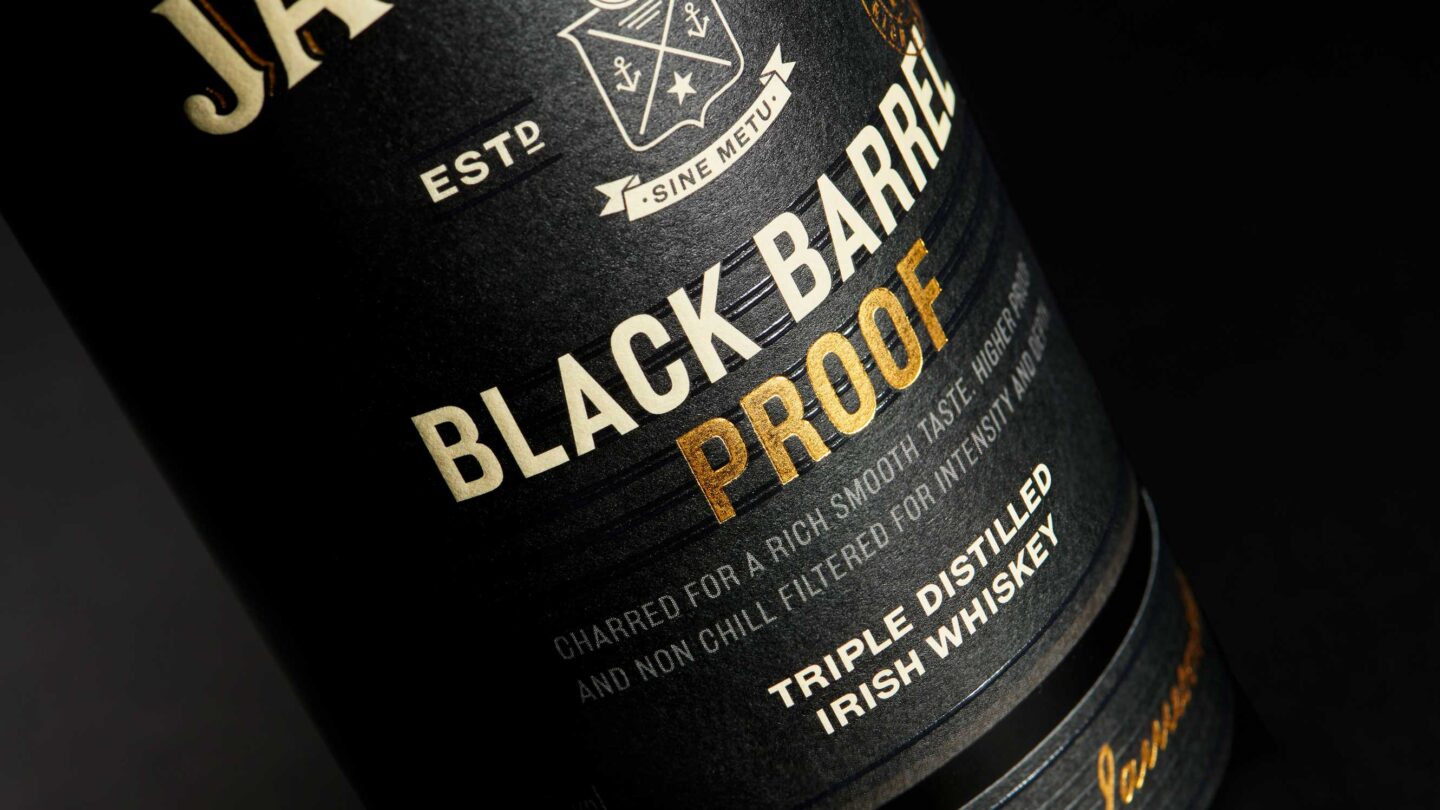 Jameson Black Barrel Proof is a punchier addition to the Jameson Black Barrel range. Unlike the regular Black Barrels, it's even more flavour intense and bottled at 100 Proof. We were excited to create this line extension with the intention to both express its intensity and keep the range together.
Black Barrel is Jameson's tribute to the legacy of charring barrels before filling them. Compared to Jameson's other Black Barrels, the double charred ex-bourbon barrel maturation plays a key role to this editions character. The high ABV lets the whiskey penetrate deeper into the oak, releasing flavours from earlier bourbons in abundance.
We've been working with Jameson's whole range of Black Barrels, and were asked to create this line extension, including name exploration. The objective was to support the acceleration across markets with a compelling and straight forward design.
For us, it was important to express the intensity and at the same time keep the range together. It led us to build the creative idea upon "A greater experience" and to visualize the bold taste with a bold expression. By adding "Proof" to the Black Barrel name, we're also emphasizing its strength and depth in taste. Black is the Black Barrel's primary colour. It represents both the process of double charring barrels and the final rich and flavourful whiskey. For the Proof edition, we deepened the black even more to bring the flavour intensity to life; a darker monochrome look and a custom-made black coloured bottle combined with tactile elements. The black lines on the bottle represent the metal barrel hoops holding staves together on a whiskey barrel. In the same way they're holding the letters and the product name together. The added gold foil is not just giving a premium touch, its main feature is to represent the colour of fire. Adding warmth and contrast to the design.
Altogether, the Black Barrel Proof design visualizes a greater flavour experience – making a powerful impact to maximize the taste expectations.