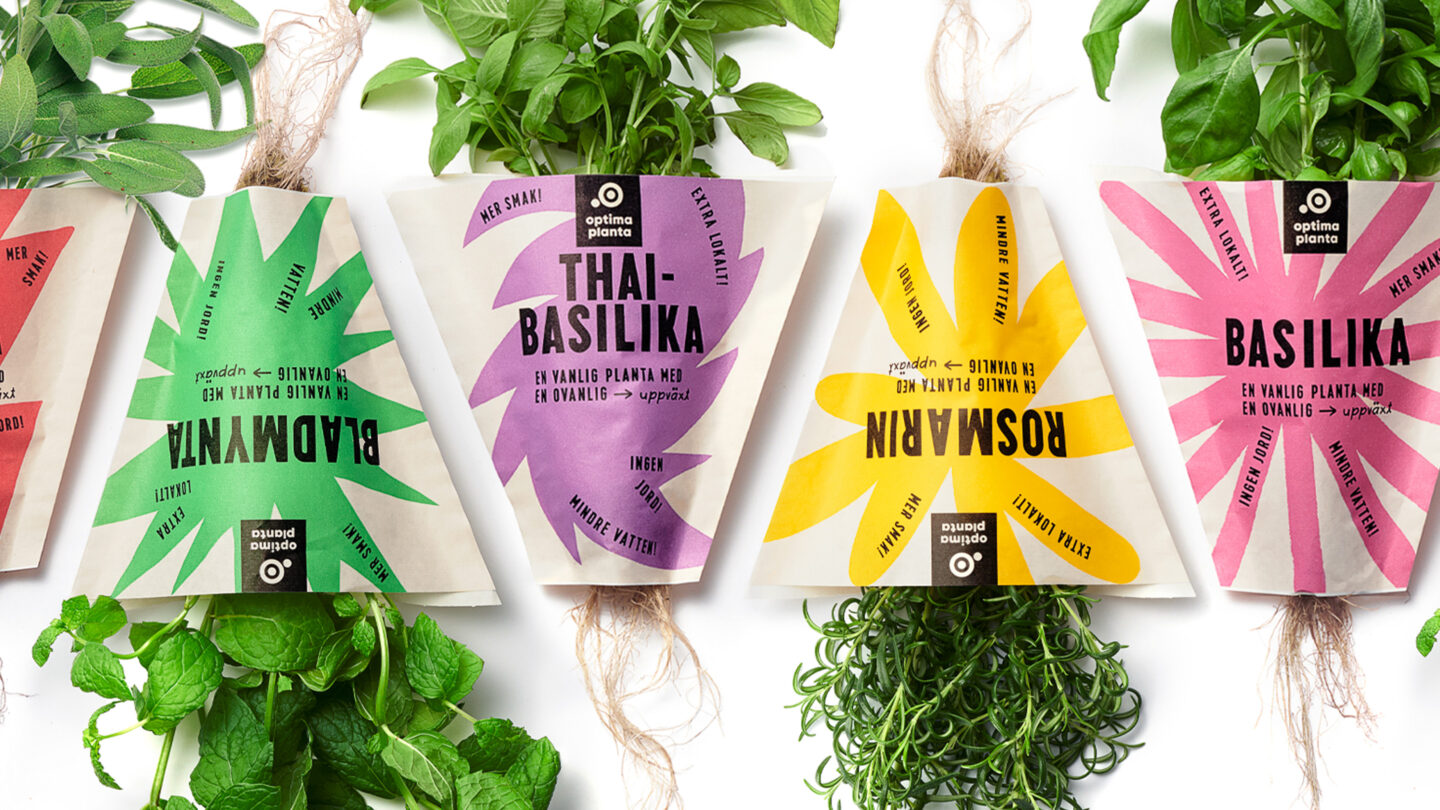 Optima Planta grow herbs with humidity in AI controlled boxes. It's called aeroponics and it enables super local and sustainable cultivation. The technique is developed by NASA so we're not talking your ordinary "local" and "sustainable" product. This is a method that basically allows anyone to be a farmer, since it enables farming without soil and with 95% less water. Our task was to bring this brand from B2B to B2C with a new stand-out identity, packaging design and story.
With plans to conquer the world with super locally grown fruits and vegetables, Optima Planta is starting off with herbs. We were excited to be invited to their revolutionary adventure. In our initial exploring, we spotted that the main challenge was to stand out as sustainable in an arena where all basil, rosemary and mint claim to be it. This led us to make it our main objective to let the packaging solution show that Optima Planta is lightyears ahead of the competition – pushing "sustainable" to the next stratosphere.
With this upstream innovation approach, the packaging is made plastic free with no pots and only a minimal paper wrap made from de-compostable paper. The stripped wrapping displays the plants roots in-store. A detail that is both contradicting the standards and giving Optima Planta reasons to speak about the environmental benefits of soil-free farming.
The creative idea is built around bringing all these superpowers into daylight with superhero references, vibrant "pow" and "wow" splashes, a differentiating colour scheme and a distinguishing verbal tonality. Together they shape a playful story and expression – turning the complex NASA technique and method of aeroponic cultivation into something fun, appealing, and understandable.
All resulting in a eye-catching packaging design, that not only looks great – it is a visual and innovative revolution. Something that makes Optima Planta seem like just that inventive company it is. Even if it's just about ordinary plants – with extraordinary upbringings and superpowers.
Innovation
Brand Strategy
Visual Identity
Packaging Design
Motion Graphics